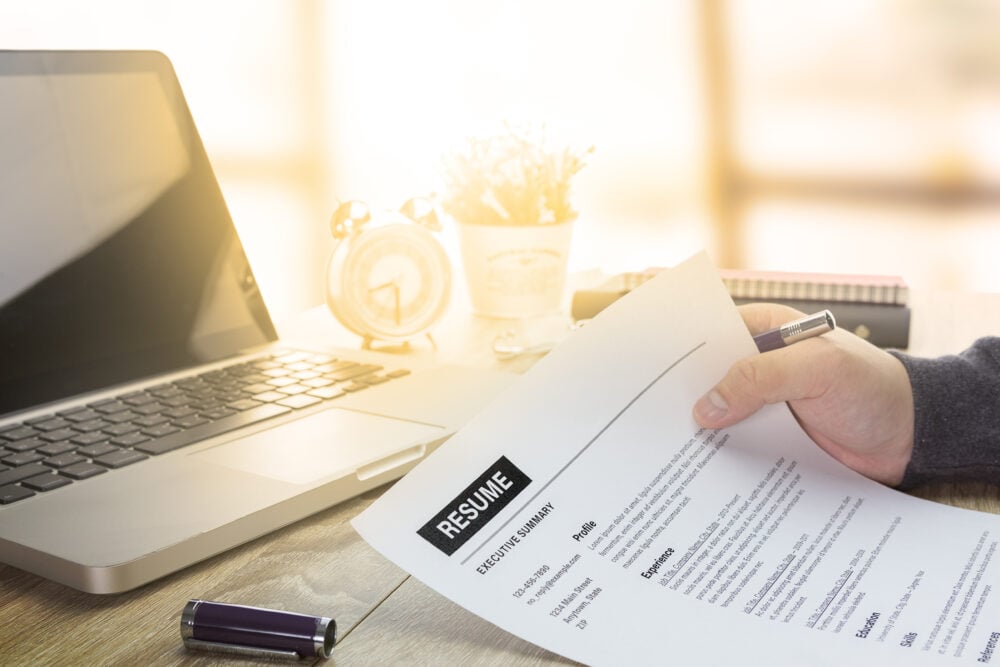 Top Tips to Make your Resume Stand Out
With many people sadly finding themselves un- (or under-) employed due to the knock-on effects of COVID-19, there is more reason than ever to ensure every word on your resume, counts.
A well written and presented resume can make the difference between getting the job of your dreams or missing out. Whilst it can seem like a chore, it is well worth putting in the time and effort to give you the maximum chance of success. A new job can be life changing, whether that's through career progression, an increased income or a change in direction.
Sally Mlikota, Director, CBC Staff Selection and President of the Cairns Chamber of Commerce knows the employment landscape like the back of her hand and having worked in recruitment for several decades, understands what hiring managers are looking for on a resume.
''Your resume is your chance to make a great first impression and put you on the interview shortlist, so it needs to be exceptional. Communicating your skills, experience and qualifications in an engaging manner isn't easy. There is a fine balance between giving too much information, and not enough. Add to that the difficulty a lot of a people face when talking themselves 'up', and you can find yourself with a confusing resume which is unlikely to engage the reader'' said Ms Mlikota.
Whether you have never written a resume before or haven't updated your existing one for a while, Sally's top tips will help get you on the right track for success.
 1. Less is more
Keep your resume to three or four pages at the most and remember that the purpose is to communicate your top skills, qualifications, experience and achievements. For jobs which attract a high volume of applicants, you may only have the attention of the hiring manager for a few minutes. A well-structured 'at a glance' approach, separated with informative headers and key information, is a sound first step.
2. Don't get too comfortable
If you have used the same resume for several years, it is easy to become complacent. Rather than just forwarding it on with a covering letter, take the time to go over it again. Tailor the content to highlight points which are the most relevant to the role and make sure you have included qualifications and achievements you have gained since the time you last reviewed the content.
3. Get inspired
There is a wealth of free templates available online which is a great starting point. Make sure you select one which reflects the industry you are in and don't go for a design which distracts from the content. Make sure you fully showcase the main points you want to include so you stand out for the right reasons. Your resume is a professional document and should be professionally printed and easily readable. Unless you are applying for a 'creative/arty' position, there is no need to splash out on a professionally designed resume. It is the content that the employer is looking at.
 4. Who are you?
It is one thing to state your qualifications and work history, but quite another to effectively communicate your personality. Make sure you add your interests, awards, activities and any volunteering you are involved with. This is also a great opportunity to demonstrate why you are a good fit for the role.
Don't simply list 'travel, reading and playing football' at the end of your resume, instead spend time thinking about how your interests align with the job. For example, if the company is looking for someone who can work with minimal supervision and possesses excellent organisational skills, you could expand on 'travel' by adding 'organised and completed an independent six month backpacking experience across Europe'.
 5. Why you?
It is critical that the employer can review your resume and see your value add quickly. Tweak each resume you send out according to the role you are applying for. Additional to lists of employment history and what you have done, pull out a Key Areas of Expertise section, and make it easy for them to see why you will add value to the role they are looking to fill. You can add, 'Financial Management', 'People Management', 'Corporate Governance' and other specific areas of expertise for example.
 6. Get feedback
Once you are happy with your resume, put it to one side and revisit it in a day or two. Fresh eyes can pick up things you didn't notice previously and it's better that you see them, than your potential future employer. It also helps if you read your resume out loud as this activates a different part of your brain which make any errors, stand out in a second.
Finally, get someone to proofread your resume. Make sure it's a person who will take the time to fully critique what you have written. Equally as important, is to ensure they understand the type of feedback you are seeking. For example, do you want to know if your personality comes across accurately or are you just interested in grammar and typo checks?
''Recruiters are likely to do some online research before settling on their shortlist, so make sure your LinkedIn profile is up to date and that your social media channels have nothing off-putting publicly available'' added Sally.